It works wonders, even though the 10-step routine is not an instant, magical fix. The real trick to this routine is consistency and patience. The evidence? Korean women swear by it, as they have been using it for many generations, and now we also have women from all over the world to back it up. We get to experience this unique approach to beauty through the lens of modern formulas in SKIN79 cosmetics. It truly is the best of both worlds: innovation and traditional knowledge.
Korean skin care is a worldwide phenomenon because despite the set of traditional rules you can fit the routine exactly to your needs. Through learning the basics and trying out different combinations of products you will be able to create your beauty routine. The secret to effective Korean skin care is finding the right products which will suit your needs.
The philosophy behind this kind of skin care is pretty unique, especially compared to popular Western methods – each step is geared towards a different need of your skin. Because despite the differences every skin type needs some amount of moisture, cleansing, soothing, refreshment, and replenishment. This is why the universal set of rules will meet the individual needs of various skin types – it's all about balance.
It is not a coincidence that many women all across Europe are now learning about the rich tradition of Korean beauty routines and trying out the products. When done properly, the effect of glowing, healthy, and young-looking skin is accessible to every one of us.
All the steps of Korean beauty routine are equally important and all together they make a complete system of skin care. Western skin care sometimes can be oversimplified: we look for one product which would be supposed to meet multiple – sometimes vastly different – needs. Most of the time it does not work as promised, because one perfect solution to all the skin conditions does not exist.
Korean beauty skin care is not a promise of an instant miracle. It is however a lifestyle change, which will result in lifelong changes to the overall health of your skin. Once you get the gist of it, going through each step will be effortless - trusting the process of discovering your skin's natural needs is a joyful experience.
Korean skincare offers something different, which was lacking in the European approach: the awareness of choosing your products accordingly to your skin's needs, instead of aiming at a desired effect from TV commercials. And let's be honest - we all at some point have tried to reach the same goal with a one-fits-all product. It usually ended up being one-does-not-fit-all, and most likely wasn't chosen with having our individual needs in mind.
The multiple steps of Korean beauty routine allow you to build your routine based on general rules. It may seem overwhelming at first, but we promise you will get the gist of it really fast. It's a great excuse to take a moment to care for yourself during the day.
And the healthy glow? Well, that is a pleasant side effect of giving your skin exactly what it needs.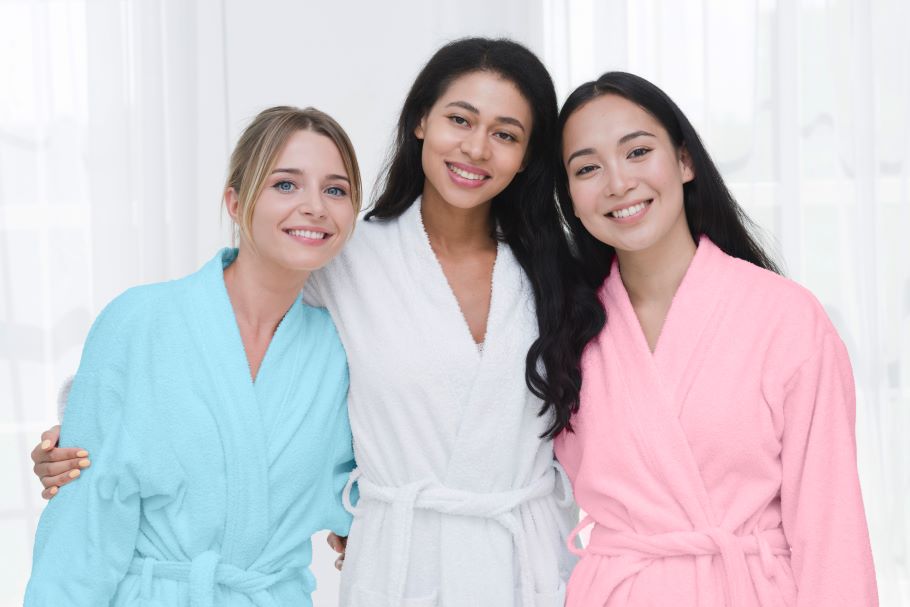 Here are the 10 essential steps of Korean beauty routine:
Cleansing with an oil-based product:
Only a thoroughly cleansed skin will be able to take in all the good ingredients of products used in the next steps. This is where you need to pay attention to the state of your skin closely, as we tend to leave certain parts of our face unclean. It also leads to breaking out, which not only does not look good but can also be painful. In Korean beauty routine, the cleansing needs to be done properly. We recommend using an oil-based product at first, to remove and dissolve heavy makeup, dirt, and bacteria that have been collecting throughout the day.
Cleansing with a water-based product:
The second step to a full cleansing routine. Water-based cleanser removes the oily residue and leaves your skin fully clean, ready to take all of the good stuff you are going to apply later on.
Something we are aware of, but often tend to forget about or use irregularly. Exfoliating all the dead skin is crucial to achieving a healthy look. None of your serums, creams, or oils will be properly absorbed if the dead skin cells are not removed. We recommend choosing a gentle exfoliant and then using it 2 or 3 times per week. That way you can prep your skin just enough without over-exfoliating and damaging it.
A long-forgotten kind of product, which you may remember from your teenage years when we all wetted the cotton pad and harshly rubbed it into our skin. The Korean tradition teaches us that a properly chosen toner is just as important as a cream, or a serum. Our skin has a naturally slightly acidic pH, and the right toner will bring back its proper pH balance.
Do not rub it in with harshly with cotton pads - use a spray bottle to gently disperse it all over your face. You can easily pick a toner that will suit your skin's needs: a moisturizing, refreshing, or cleansing one.
A great addition to your routine. Gently pat the product into your skin after it absorbs the toner. You could compare its formula to the one of a serum, its watery consistency allows you to easily spread it on your skin. The essence is supposed to help with brightening and preventing further wrinkles on aging skin.
You are probably familiar with the formula of a serum. In this step, you can choose the serum, an ampoule, or a concentrate. The choice is yours – pick a product which will amp up your beauty game. Similarly to toner or essence, a serum can have anti-aging or moisturizing properties, it could also minimize the pores. Remember to use it only when you do not want to use a face mask, otherwise, you might overwhelm your skin.
Quick, easy, and effective. Standard European face mask needs to be washed off, often leading to dried-out skin. Korean sheet mask will soothe your skin and does not need to be washed off. We recommend using it instead of the serum or ampoule – pick one based on what your skin needs at the moment. When most of the product is absorbed, remove the sheet and gently pad the rest of the product into your skin.
No matter how old you are, using an eye cream is always a good idea. The gentle skin in your eye area needs moisture and refreshment just as much as any other part of your face. One tiny dot of cream is enough for each eye.
Every skin type needs moisture. Even oily skin will not achieve its healthiest state without moisture, the lack of which deepens the wrinkles. Moisture equals youth, and the Korean routine is a great way to implement it into your skin care. You can pick a product with a gel-like consistency, a heavy cream, or a lighter lotion – choose it according to your skin type.
Exposing our skin to the sun can have disastrous consequences on its state. Sun protection is necessary to prevent both wrinkles and creases, as well as skin disorders and dryness. Use the sunscreen after moisturizing, and before starting your makeup routine. Thanks to the unique formula, modern sunscreens are just as good a makeup base as any other primer.
These are the crucial parts of the Korean skin care routine. Don't worry – practice makes perfect, and we promise you will enjoy the journey of getting to know your skin. You don't have to strictly follow every rule every single day, because the most important thing is awareness of your own needs. It will allow you to make the best decision for your skin at the moment – because who would know it better than yourself? Try out each step at your own pace, and in the end, you will find the ideal set of products and steps for your skin.
And if all this information is a bit much, don't worry – we at SKIN79 are here to help you. Go on a journey with us and you will find out all about the tricks and methods behind Korean approach to skin care.
Still not sure? We got millions of satisfied clients who will vouch for the Korean beauty routine, and every single one of them has started just like you are starting right now. Trust your instinct and leave the rest to us – we will be happy to guide you through the world of skin care awareness.